Splunk Remote Work Insights (RWI)
Keeping mission critical systems operational and secure during a surge in Remote Workforces with Splunk RWI
In light of recent COVID-19 activities driving further necessity for remote working needs, companies of all sizes continue to struggle with gaining a grasp on how best to cope with these growing challenges levied upon them. Not only are there needs for businesses to continue operations, but to continue in accordance with industry proven best business practices, added adaptability and above all security. To accomplish these needs and to further drive growth opportunities, the need to have better insights into your business has never been more important.

To complicate matters further, while many organizations are working on adapting to this new normal, and continue to migrate more and more dependence on the interdependencies of network collaboration tools and other online platforms which are often interconnected even more into internal resources through Virtual Private Networks (VPNs) or other means, the unbeknownst adversary does not rest. Recent threat intelligence continues to show the adversary, those that seek harm to your mission, operation and continued success at any level, seeking even greater opportunities in advancing their goals and causing potential disruption further.

As a leader in cybersecurity, providing innovative systems, products and solutions to government and commercial customers for over 20+ years, August Schell is here to help provide peace of mind during these challenging times and beyond. To provide the level of visibility our customers need and depend upon, August Schell leverages the power of the Splunk platform to operationalize data in order to better understand the needs of the organization holistically.
Connect with one of August Schell's Splunk Certified Architects and learn how Splunk Remote Work Insights empowers both you and your remote workforce while still adjusting to the 'new normal' of remote workforces by:
Providing a way to monitor remote access VPNs and collaboration among personnel in real time: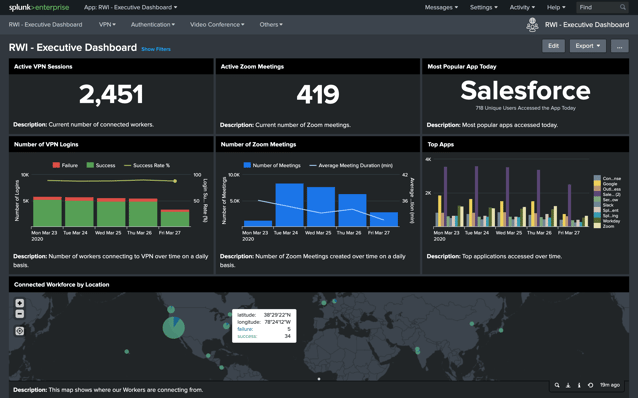 Identifying emerging issues easily and quickly through Machine Learning and Artificial Intelligence.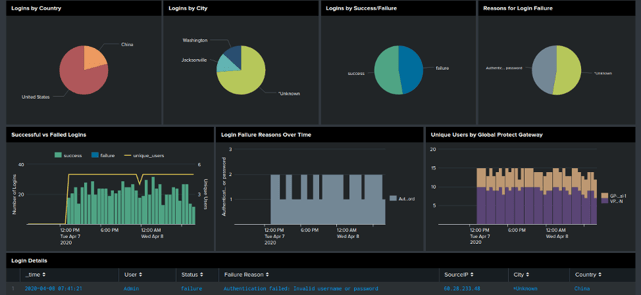 Allowing you to review key performance indicators on Splunk's Dashboard to enable better data-driven business decisions.
Ready to learn more about Splunk RWI and the use cases relevant to your immediate and future organizational needs? August Schell is here to help you. Get in touch with an August Schell Splunk engineer, or call us to speak to someone today at (301)-838-9470.