August Schell Wins FY'2017 Splunk Partner+ Award
August Schell Brings Home Splunk's Public Sector Services Partner of the Year Award
August Schell Earned the 2017 Splunk Partner+ Award
August Schell is excited to share that we've been recognized as a 2017 Splunk Partner+ Award winner. We were fortunate to bring home the Public Sector Services Partner of the Year Award. The Public Sector Professional Services Partner of the Year recognizes a Splunk partner who is actively engaged in services implementations and a strong commitment to training and certification of their organization.
Splunk Partner+ Awards are designed to recognize members of the Splunk ecosystem for industry-leading business practices and dedication to constant collaboration. Areas of consideration for an award include commitment to customer success, innovative program execution, strategic business outcome-focused programs, investment in Splunk capabilities, and creative sales techniques.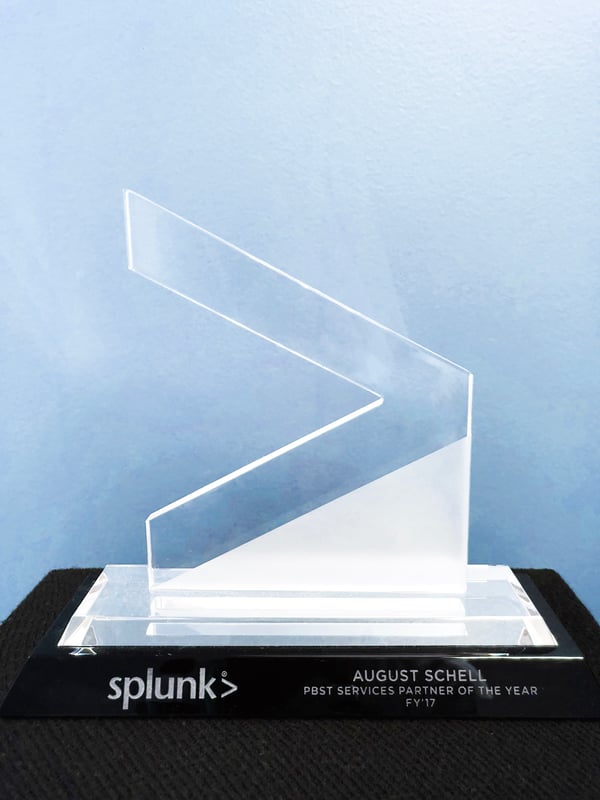 "We thrive on delivering cybersecurity capabilities to organizations involved in the security of our country, and as a member of the Splunk Partner+ Program since 2012, we are extremely proud to accept this recognition from the leading software platform for real-time Operational Intelligence," says Bill Schell, founder and CEO, August Schell.
As reported by Splunk, partners are critical to Splunk's success; daily effort and innovations result in superior customer commitment and a stronger partner ecosystem overall.
Our Method for Bringing Excellence to the Public Sector
The August Schell team is made up of many seasoned Splunk experts who have been dedicated to Splunk technology since its beginning. Our engineers offer the experience and expertise required to work collaboratively with our public sector customers who need to harness big data for gaining business value and return on investment, whether through operational intelligence, data analytics and visualization, or log aggregation.
August Schell recognizes that every customer's goals are unique to their agency, which is why we work together to ensure that federal organizations achieve success through drawing on the power of big data with Splunk.
Delivering Splunk to the Public Sector, Today and Tomorrow
Our team is committed to continuing to implement Splunk solutions to public sector customers. We will stay focused on our dedicated partnership with Splunk in order to assist agencies who will benefit from their capabilities.
If you have questions about how we can help your business benefit from Splunk, reach out to an August Schell Splunk expert today, or call us at (301)-838-9470.
---
Are you having an issue on-boarding data with Splunk?
Does your Splunk seem to underperform? Are you having trouble scaling?
We're here to help.